Storage of musical instruments
Music - an integral part of life. It affects our moods, habits and character. Musical instruments provide a unique opportunity to touch the wonderful world of music, Enjoy a wide palette of sounds. Some copies of musical instruments are not only cultural but also historical value. The peculiarity of this object in its fragility. Regular care, thrift and proper Kladovka of musical instruments - the key to their excellent sound quality and original appearance for many years.
Basic Rules
Every musician knows of a tool you need to regularly take care of, even when it is not in use for a long time. From the proper preservation depends on the nature of sound and the value of the instrument as an art object.
The main musical instrument Kladovka rules:
proper temperature conditions (+ 10 ° C - +25 ° C) and humidity (50-60%);
Kladovka of tools at a safe distance from the heating device (not less than one and a half meters), drafts, windows and doors (to avoid cold air flow);
weakening strings in Kladovka plucked musical instruments;
Keep away from direct sunlight and heat from the lamps.
If you plan to go away for a long time or store the instrument as a piece of art, it is better not to leave his house, where, in your absence, he may be subject to unforeseen risks (increase, lowering the temperature, humidity, flood the neighbors above and so on). The best guarantee to protect musical instruments - to deposit in a special personal vault. The designated areas are shelves for Kladovka of musical instruments, is carried round the clock monitoring the required temperature and humidity.
Failure to comply with the rules of Kladovka can lead to irreparable consequences:
deformation body or individual elements of the tool;
disruption lacquer coating and peeling parts;
sound quality (at a high humidity wood elements swell, which affects the sound quality);
cracking, and putting forth.
In many cases, repair is not allowed to return the original appearance and sound quality, so it is important to prevent damage to the instrument.
During transportation
To save the instrument during transport need to take care of its reliable protection. Not only improper Kladovka, but in particular transport without proper packaging, can cause irreparable damage to the instrument. Packing musical instruments needed for protection against mechanical damage, moisture, dust and direct sunlight. During transportation and handling operations used rigid case (Korff) or case. This type of individual package protects the tool with the features of its shape.
Many cases allow for the necessary temperature conditions during shipping. It is important to monitor his condition, time to dry and clean. Even with reliable and high-quality packaging, it is not necessary to leave a musical instrument for a long time in the car or on the street, especially in hot or cold weather. In winter, after you have brought the instrument from a cold to a warm place, leave it for an hour in a case, in order to avoid sudden changes in temperature. Stepless change of temperature will protect the coating from deformation.
Compliance with the Kladovka and maintenance of musical instruments will allow you to enjoy their splendor for years.
Calculate the cost of storage in a warehouse
To calculate the value box, select the expected duration of storage and the necessary footage by dragging the diagram shown below.
Choose your period of storage and the necessary yardage.
Calculate the area of storage in a warehouse
We offer a large variety of boxes 4m 2 before 30m 2
Storage 4 m2
Suitable for storing furniture and things.You can place a table, bed, washing machine, refrigerator and boxes of things.
Storage 5 m2
Conveniently fit more than 40 boxes or furniture and appliances from an apartment up to 35 square meters
Storage 7 m2
You can place more than 45 boxes, furniture and appliances: two wardrobes, a sofa, a washing machine, a refrigerator, cabinets and sports equipment.
Бокс 10 m2
Suitable for things and furniture from a one or two-room apartment up to 50 square meters
Storage 12 m2
Easily fit things and furniture from a two-room apartment up to 50 square meter
Storage 20 m2
Storage is suitable for storing goods of a small online store or furniture and appliances from a three-room apartment up to 80 square meters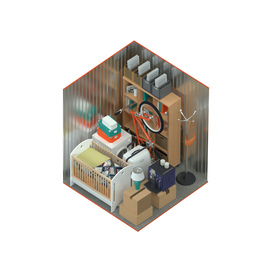 Given prices 0%
0 ₴/month
or 0 ₴ for the entire period